SIGN UP NOW FOR NEW COURSES !

(enjoy your canine companion in a variety of classes offered)
Call or email me to register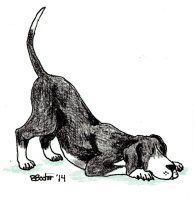 ***NEW BASIC OBEDIENCE CLASS - REGISTER NOW!***
MY NEXT BASIC OBEDIENCE CLASS WILL BE STARTING ON THURSDAY, AUG16th. 
THIS 8 WEEK SESSION WILL BE HELD FROM 6:00PM - 7:00PM EVERY THURSDAY.  THE FEE FOR THIS COURSE IS $135. THIS IS SOMETHING ALL DOGS AND OWNERS SHOULD PARTICIPATE IN FOR A STRONG FOUNDATION AND SUCCESSFUL BOND TO BE FORMED BETWEEN THE BOTH YOU FOR YEARS OF LOVE AND LOYALTY. CLASS SIZE IS LIMITED TO PROVIDE INDIVIDUAL ATTENTION AND PRE-REGISTRATION IS REQUIRED. MY CLASSES FILL UP QUICKLY SO CALL ME AT (440)354-3036 OR EMAIL ME AT
[email protected]
to reserve your spot in this educational and enjoyable endeavor with your 4-footed friend!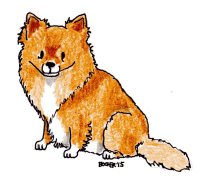 All of my classes are held at the Lake County Fairgrounds located at 1301 Mentor Avenue (Rt 20) in Painesville, Ohio. The grounds are easy to reach and just minutes from Rts 2, 44, and 90.
   The indoor sessions are conducted in the 4-H building located at the front east end of the grounds. The building has indoor restroom facilities, heat, and a cement floor. Ample parking is available and the location is handicapped accessible. Chairs for spectators are available.
       Outdoor sessions are held on the grounds in a grass covered area with shade area. There is access to the restrooms. Spectators need to bring along a lawn chair or blanket.
    If you have any questions as to what course is best suited for you and your canine companion or need advice as to what direction you need to go with your furry friend, please feel free to call me at (440)354.3036 and we can "talk dogs"!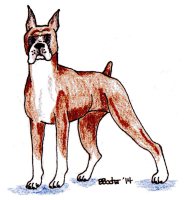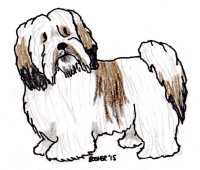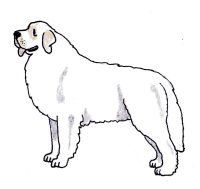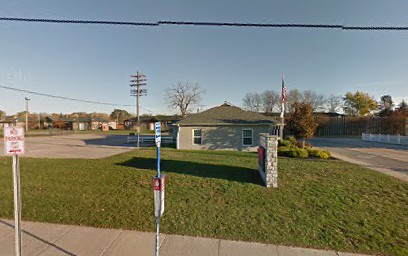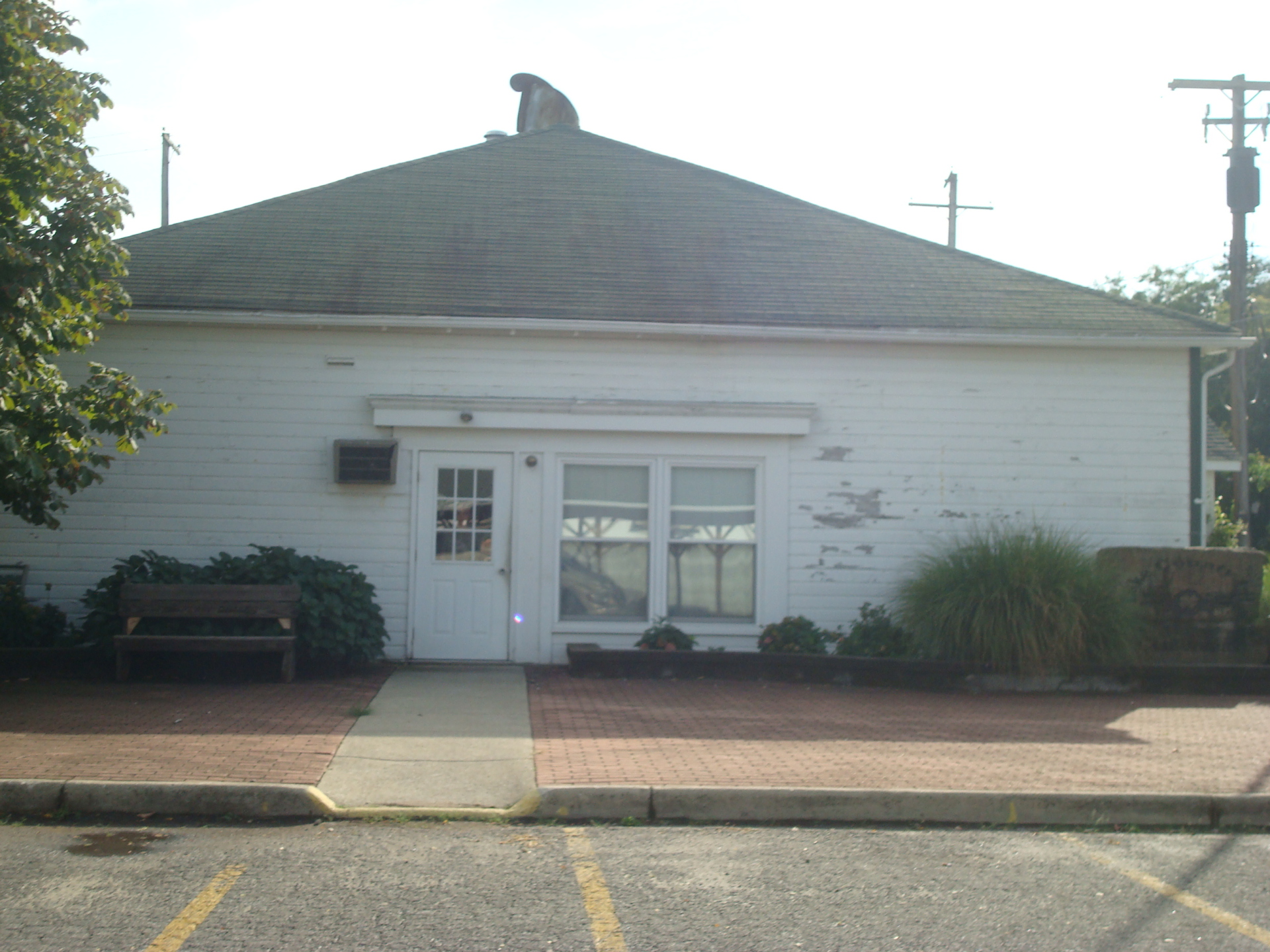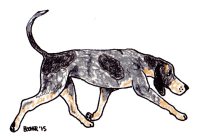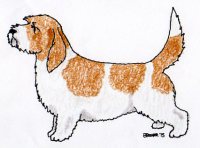 THIS (left photo) IS THE FRONT ENTRANCE OF THE FAIRGROUNDS ON RT 2O (MENTOR AVE). ENTER FAIRGROUNDS AND PROCEED LEFT ACROSS FRONT OF GROUNDS. 4-H BUILDING (middle photo) IS ON YOUR RIGHT.  ENTRANCE (right photo) IS ON THE FAR END OF THE BUILDING WITH PARKING IN FRONT AND NEARBY.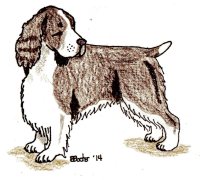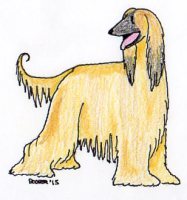 LOOKING FOR A NEW CANINE? 

 If you have decided you are ready to add a four footed package of love, loyalty, trust, and fun to your life, I am more than happy and willing to help you in making your decision. Whether a purebred or a mixed breed, from a breeder, shelter or rescue group, there are many things to consider and understand before you make your final choice. I will
educate you regarding the dog which best fits your personality and lifestyle. I will draw up a schedule of the annual cost of maintaining your new addition in the best possible way for a well balanced, healthy and happy companion. Contact Barb at (440)354-3036 or drop me an email at [email protected] to discuss your plans and my rates.
​
CONGRATULATIONS TO THE SUMMER BASIC OBEDIENCE CLASS OF 2018!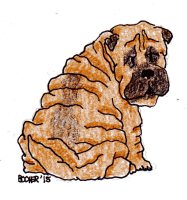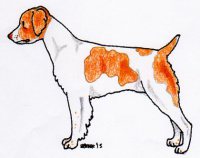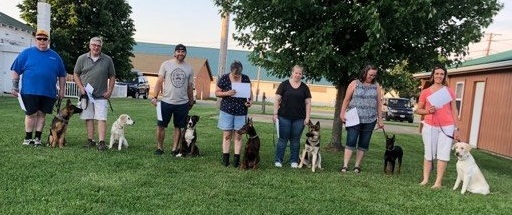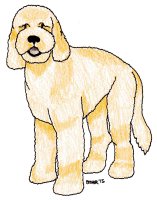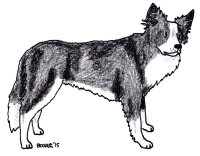 KWINCY / WOODY / AUGGIE 
CHAOS / BABY / PIPER / TUCKER
​NICE JOB & ON TO INTERMEDIATE !!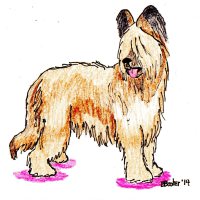 HAPPY TAILS IS PLEASED TO SEND THESE NEW CANINE GOOD CITIZENS 

OUT IN THE COMMUNITY AFTER RECEIVING THEIR OFFICIAL TITLES ON 07/27/18!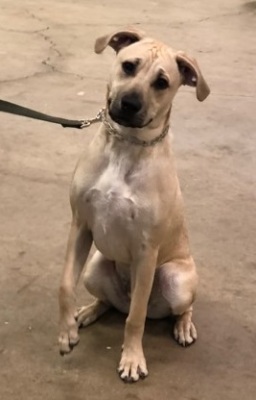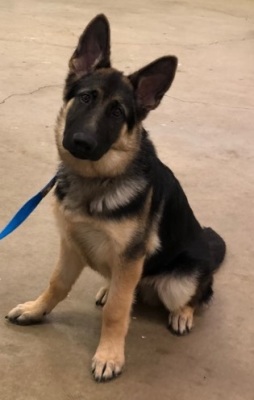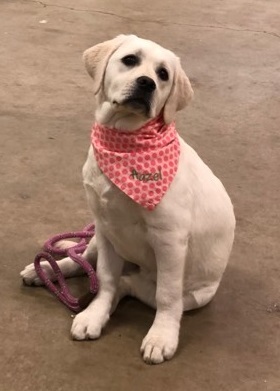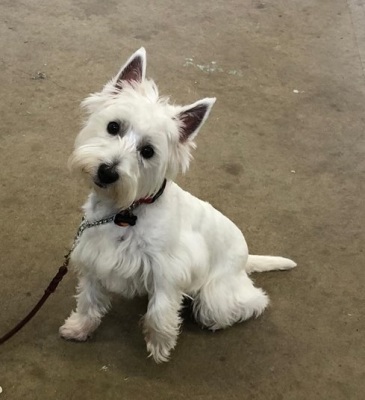 (above) BANTAM / DUKE / HAZEL / MAGGIE

(below) ACHILLES / COOPER / OLIVE / KWINCY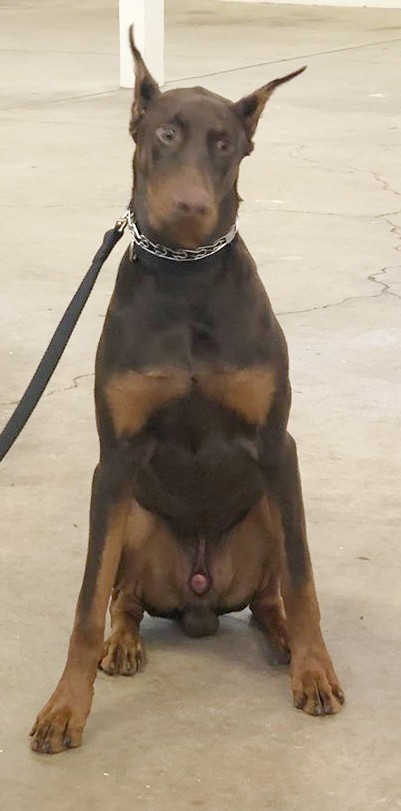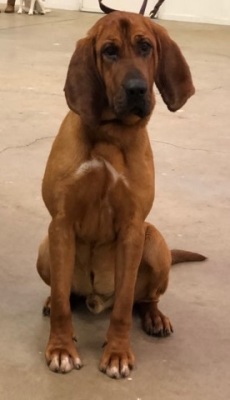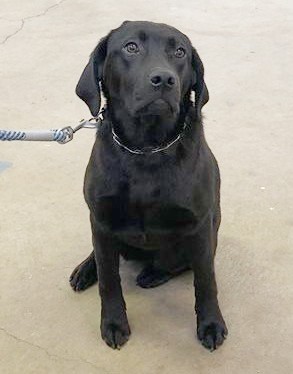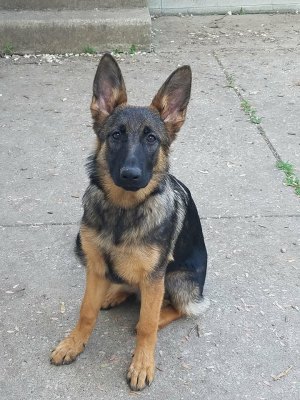 FACT VS FICTION ​

with the proper collar
So many dog owners see this collar known as a "pinch collar" as vicious and inhumane. This is only because they do not understand how the collar is fitted and what it is designed to do. First, the prongs are blunt not pointed. Second, the prongs are curved not straight. Third, the prongs are designed to pinch the dog's skin NOT poke into their neck! Your dog's neck is the second strongest muscle in their body (jaw is first). Without the proper collar your dog will pull you wherever they want to go. The chain choker or slip collar can do more damage as all pressure is applied totally to the front of the dog's neck against his windpipe and trachea. This also applies to a martingale collar whether chain or flat canvas. The pinch collar just applies an even skin pinching effect around the dog's neck. Harnesses are useless as they are made for a dog to pull using all of his body weight. Gentle leaders or Halties do not teach your dog to walk next to you without pulling. They inhumanely twist their heads bacwards  to stop forward motion.

​​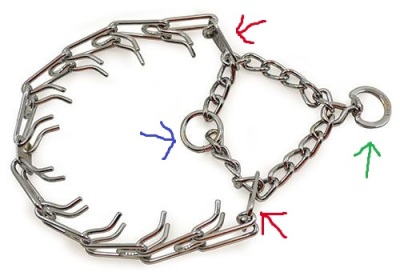 SIZING YOUR PINCH COLLAR CORRECTYLY
- The proper fit makes all the difference in the performance of this collar. I always use the 2.25mm collar and add extra links except on giant breeds (Danes, Saints, Rotties). Do NOT slide the collar on over the dog's head. When putting it on or taking it off, undo the collar by squeezing the prongs together on one link and pulling it apart. Snap your lead to the top ring (green arrow). With the collar on the dog, pull the collar tight and make sure the 2 metal plates (red arrows) do NOT touch the middle ring (blue arrow). When pulled tight there shoud be several chain links on each side between plates and center ring as seen in the photo. Training dogs for more than 35 years, I have had only 2 out of 1000's of clients not want to use this collar after trying it out with their dog.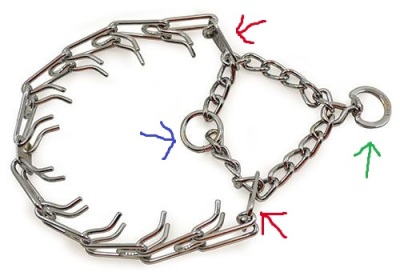 If you insist on using a slip collar on your dog make sure you have the correct size and put it on correctly.  Measure your dog's neck and add   2"-3 " for the proper size. When putting on the collar make sure the ring attached to the lead comes from the dog's left side and over the top. This will cause the collar to loosen when the dog is in the proper position at your side as his reward for not pulling. Large heavy links don't make a stronger collar. Use a small smooth linked collar best results.